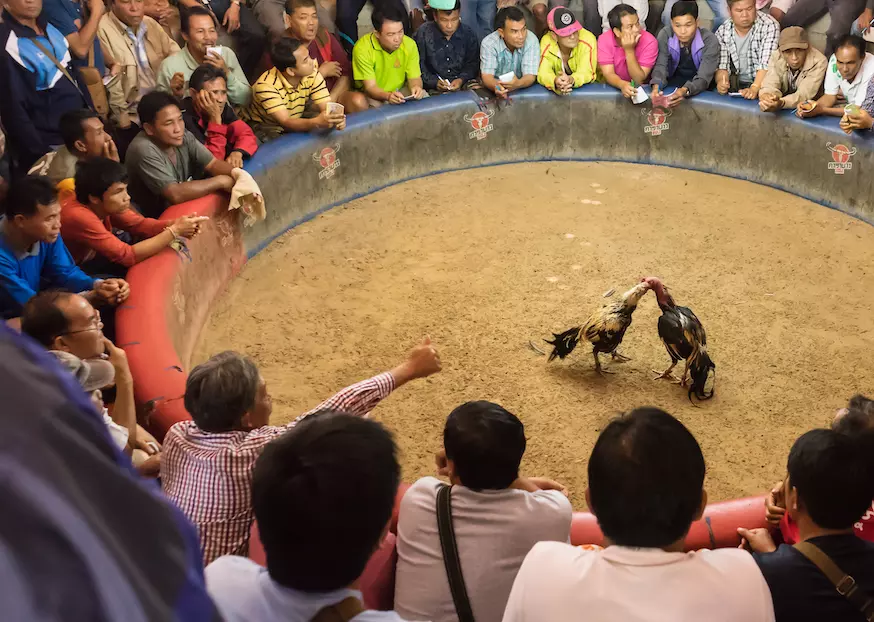 Despite 2007 Ban, New Mexico Remains A Cockfighting Hub
AWA Investigation Shows Brisk Movement of Fighting Animals to Mexico, Close Associations with Major Alabama Cockfighting Players
New Mexico continues to be a major hub for cockfighting, with a network of cockfighters staging fights at pits in the Land of Enchantment, according to a 21-page investigative report released days ago by Animal Wellness Action (AWA) and the Animal Wellness Foundation (AWF). The report also documents the trafficking of animals throughout the U,S. and to  Mexico and other nations.
The Report discloses that several cockfighters in New Mexico illegally trade fighting animals with Tyler and Brent Easterling, who appeared prominently in AWA's previous investigation into cockfighting in Alabama. The Easterlings are both under investigation in Alabama by federal law enforcement agents and prosecutors for a wide range of illegal animal fighting activities, including operating a set of "large-scale breeding operations" in Verbena, Alabama. A federal judge has ordered a hold on 2,400 animals at three properties owned by the Easterlings. Officials have identified a fighting pit across the road from one of them.
Our Report is the seventh statewide investigation exposing illegal cockfighting ventures in the United States, with prior reports covering Alabama, Hawaii, Kentucky, North Carolina, Oklahoma, and Tennessee. We've also conducted extensive investigations into cockfighting in Guam and Puerto Rico. Last week, the United States released pleadings urging the Supreme Court  to decline to hear an appeal from Puerto Rico's political leaders who are seeking to overturn a recent amendment to the federal Animal Fighting Prohibition Enforcement Act. That 2018 amendment to the federal animal fighting law extends the U.S. ban on cockfighting to the U.S. territories. "The court of appeals correctly held the prohibition [against animal fighting in Puerto Rico] falls within Congress's power under the Commerce Clause, and its holding does not conflict with any decision of this court," wrote attorneys for the Department of Justice. 
When New Mexico became the 49th state in the nation to ban cockfighting, the reverberations  were powerful in a state with dozens of fighting arenas, mostly in the southern portion of the state. That law, signed by then Governor Bill Richardson in 2007, led to the shuttering of many of the state's fighting arenas. At the time, some individuals announced that they'd do business in a different way. That included Tommy Booth, operator of Tommy's Club, who promised to move his operations over the border to towns like Ojinaga and Palomas in Mexico. That same year, Congress made animal fighting a federal felony, strengthening the prohibition on transport of animals across state or national lines for fighting purposes.
"Nearly 15 years ago, New Mexico joined 48 other states in outlawing cockfighting," said Patricia Madrid, a former two-term Attorney General from New Mexico (1999-2007) and a member of AWA's National Law Enforcement Council. "This report reveals disturbing allegations of illegal cockfighting in our state and I urge federal and state authorities to investigate and prosecute individuals violating our laws so that this cruelty is pulled up by the roots."
The Report identified 15 traffickers of fighting animals. John Gurule, Jr. (aka "Reck Barberien) and his father, according to evidence AWA and AWF have amassed, are doing business with the Easterlings to grow their gamefarm in or near Albuquerque. The Gurules are receiving birds though the U.S. Postal Service from Tyler Easterling and then, according to their own social media posts, breeding, training, and fighting those birds in derbies. On Facebook, the younger Gurule responded to Swift Creek Farm (owned by Tyler Easterling) expressing appreciation for shipping him fighting animals for a cockfighting derby, stating, "…thank you for putting them in our hands we hope to make you proud."
Gustavo Sierra, of Sierra Brothers Gamefarm in Roswell, also appears to conduct business with Brent Easterling and has shared pictures and videos of cockfighting, upcoming derbies, and their shipment of roosters via the U.S. Postal Service from his farm to other states. Sierra has also advertised his price list for gamefowl. Mario Maldonado, of APV Gun Club Gamefarm in Albuquerque, also runs a breeding and sales operation. He describes fighting in Mexico and also reports on visits to one of the Easterlings' gamecock farms in Alabama to make selections for future fights. 
The Report also identifies other gamefarms in New Mexico where roosters are raised and trained for fighting pits. The offspring of roosters who win major derbies are coveted by other cockfighters, who can win cash prizes and trophies if their birds prevail at one of many major competitions in Mexico or even the World Slasher Cup in the Philippines. Offspring of birds who win derbies can sell for $2,000 per bird, with some major fighting operations selling thousands of birds a year. These earnings go unreported to the Internal Revenue Service, given that these transactions constitute contraband.
"Mexico has been a major destination for the export of fighting animals, and that's a federal crime," notes Eric Sakach, a consultant with AWA and a court-certified expert on animal fighting. "The trafficking of animals from New Mexico to Mexico is brisk, and cockfighters there often involve cartels and other organized criminals, with the wide range of illegal activities, including money laundering."
The federal law provides for prison terms up to five years and fines up to $250,000 for each violation of the federal animal fighting law. New Mexico's law provides only misdemeanor penalties for a first offense.