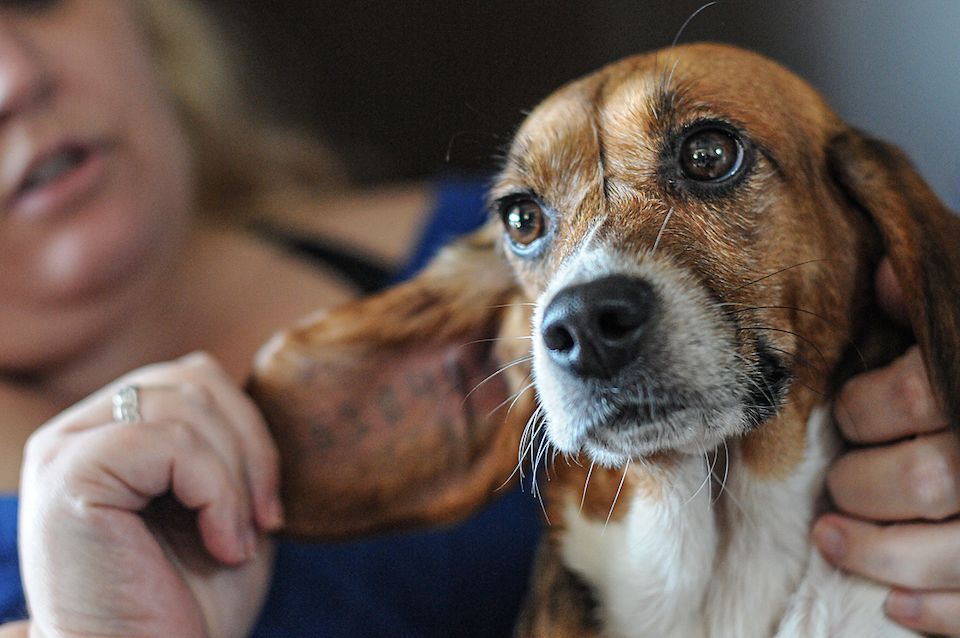 Animal Testing Mandate Translates Into Torment for Primates, Dogs
Congress Can Reduce Pointless Animal Testing by Allowing Innovative Safety and Efficacy Non-Animal Methods for Assessing Drug Safety
It wasn't your typical highway crash. Surely, there was a dazed and injured driver after his speeding truck flipped on a four-lane highway. But the truck had a very large group of passengers in the rear. Nearly 100 monkeys, on their way to a research laboratory. 
Some were injured inside their cages. The crash broke open others, and the hapless animals spilled onto the highway pavement. Some who didn't die from the impact escaped into the brush. Law enforcement chased down and shot the confused and injured animals who simply sought cover in an alien world.
While truck crashes with monkeys are rare, the trade in wild primates to labs certainly is an every-day event. In 2019, laboratory researchers used 69,000 non-human primates in the U.S., importing half from 13 different countries that capture them from the wild. Cambodia has become, by a long shot, the biggest trafficker of the wild monkeys supplied to laboratories in the US.
In many cases, there are scientifically valid alternatives to using these cognitively complex, social animals. Yet putting these alternatives to use isn't an option because the FDA is bound by a Depression-era statute mandating animal use.
That's precisely why the Center for a Humane Economy and dozens of animal welfare, pharmaceutical, patient, and medical groups want a change in the law. The animal testing mandate is archaic, and the FDA Modernization Act, introduced by Senators Rand Paul, R-Ky., and Cory Booker, D-N.J., as S. 2952, and by Representatives Vern Buchanan, R-Fla., and Elaine Luria, D-Virg., as H.R. 2565, would lift that mandate. 
Animals Often Not Predictive of the Human Response to Drugs
When the Federal Food Drug and Cosmetics Act (FFDCA) was enacted in 1938, animal models seemed like the best way for drug developers to study how therapeutics might act in humans. But there are major flaws, and very troubling outcomes, in the animal-testing paradigm:  
Animals, it turns out, don't perform very well in forecasting the human reaction to drugs. A remarkable 90 to 95 percent of drugs that pass animal trials fail during human clinical trials due to toxicities not predicted by traditional animal tests or because of lack of efficacy.
The animal testing paradigm hasn't dramatically helped our ability to cure the worst afflictions that cause suffering and death. For example, despite billions in funding for animal research into Alzheimer's disease and cancer over several decades, the failure rate in drug development remains 97 percent for cancer and 99 percent for Alzheimer's.
The FDA Modernization Act won't produce any immediate cure for diseases and conditions that strike down so many people and cause grief and loss for countless families.  But by allowing the use of the most promising testing methods, we may be able to develop drugs that palliate pain and other symptoms and cure more diseases, at a lower expense, with quicker delivery of life-enhancing medications, and with fewer side effects and more effectiveness.
Alternative Methods Hold Promise
There are currently non-animal methods for testing skin irritation, eye irritation, phototoxicity, skin sensitization, reproductive and developmental toxicity, mutagenicity, and other endpoints.  Innovation in the years ahead will almost certainly produce superior methods to animal testing in nearly all cases. The intent of the FDA Modernization Act is to open the door to the use of human-relevant test methods to improve the success rate in human clinical trials.
Here are some examples:
A)    Organs on Chips and Computer Modeling
In a recent study, researchers assessed the performance of 780 human Liver-Chips across a set of 27 known hepatotoxic and non-toxic drugs. Importantly, the study demonstrated that the Emulate Liver-Chip was able to correctly identify 87 percent of the tested drugs that caused drug-induced liver injury in patients despite passing through animal testing. At the same time, the Liver-Chip did not falsely flag any drugs as toxic, supporting its use in toxicology screening workflows.  
The biotech company Quris uses Artificial Intelligence-powered miniaturized "patients-on-a-chip" to avoid the tremendous risks and costs of failed clinical trials and eliminate the reliance on ineffective animal testing. 
B)    Disease-Specific Models
C)    Cancer 
Organ-on-a-Chip technology allows researchers to recreate the human tumor microenvironment in vitro, enabling mechanistic studies of cancer cell behavior and drug efficacy and safety. 
Organ-Chips and Omics Advance Cancer Research — groundbreaking research is being performed as a Cancer Grand Challenges research project, namely, STrOmal ReprograMming Cancer — or STORMing Cancer.
D)    SARS-CoV-2
The Biomedical Advanced Research and Development Authority (BARDA) awarded Harvard's Wyss Institute funding to develop to study vaccine responses. "The ongoing COVID-19 pandemic has made clear the need for rapid vaccine development, and this can be hampered by the lack of animal models that faithfully replicate human vaccination responses," said Donald E. Ingber, M.D., Ph.D., Founding Director of the Wyss Institute for Biologically Inspired Engineering at Harvard University.
The Chemical Biological Center at the U.S. Army Combat Capabilities Development Command (CCDC) is working to better understand how COVID-19 attacks lung cells using the Emulate Alveolus Lung-Chip that recreates human biological systems. "In the past, the closest researchers could get to something like this was by introducing a virus into animals and then dissecting them," according to Dan Angelini, Ph.D., a Center research biologist. "With this, there is no need for animals in performing toxicological research."
To encourage this kind of discovery and problem-solving, the United States must tweak its laws governing safety and efficacy testing, allowing drug sponsors to submit human-relevant non-animal data and find better, newer ways to do life-saving work. "We are at the tipping point of the modernization of drug discovery," said Dr. Robert S. Langer, co-founder of Moderna and the most cited engineer in history. So many other biotech and pharma companies agree, and the FDA Modernization Act may be the key to unlocking so much progress in modern science.
TAKE ACTION and urge your Members of Congress to co-sponsor the FDA Modernization Act!
Wayne Pacelle is a New York Times bestselling author and President of Animal Wellness Action and the Center for a Humane Economy. He has led efforts to pass 1,500 state laws for animals, more than 100 federal laws and amendments, 30 ballot initiatives, and 500 corporate agreements. He is a graduate of Yale University.
Tamara Drake is the Director of Research and Regulatory Policy for the Center for a Humane Economy. Drake coordinates research regarding regulatory testing methods for new product development. She has co-authored three Citizen's Petitions to the US Food and Drug Administration requesting regulatory change to update decades-old preclinical testing requirements, to allow for and incentivize use of human-relevant test methods. 
Photo credit: Jo-Anne McArthur / The Ghosts In Our Machine / We Animals Media