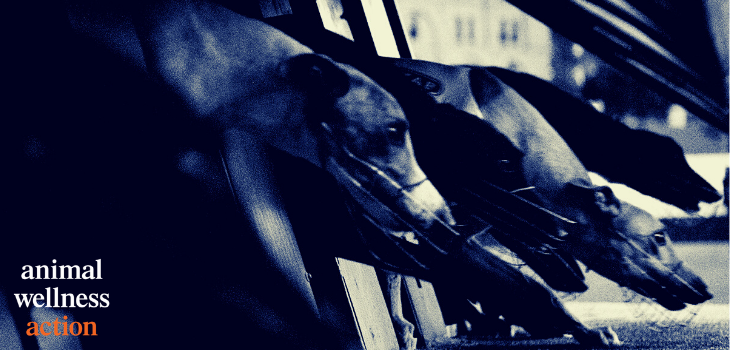 Lawmakers Introduce Federal Legislation to Close the Curtain on a Century of Greyhound Racing in America
Meanwhile, the stakes remain high as foreign racing tracks seek to broadcast races in the United States for profit
Almost exactly a century ago, a would-be entrepreneur launched live greyhound racing as a spectator sport in Emeryville, California, with wagering on the fleet-footed, wisp-thin dogs to emerge as one of the most popular gambling activities in the decades ahead. Even as recently as a generation ago, there were more than 70 tracks in about 20 states, with a total wagering exceeding $3 billion on dog races.
Today, this form of live-animal entertainment is on life support, plagued by concerns about the welfare of the animals and frittered away by an expansion of gambling throughout the U.S. that has offered more alluring options for people interested in games of chance. Today, just four tracks operate in the U.S., with two of them set to shutter live racing in 2022.
A bipartisan group of lawmakers — led by Congressmen Tony Cardenas, D-Calif., and Mike Waltz, R-Fla, with Steve Cohen, D-Tenn., Elvira Salazar, R-Fla., Stephanie Murphy, D-Fla, and Brian Fitzpatrick, R-Pa. — have introduced legislation to wind down greyhound racing in its entirety in the United States and to bar foreign racing venues from broadcasting their races here.
The Greyhound Protection Act, H.R. 3335, offers the prospect of the permanent retirement of this animal-centered spectator sport that once annually put 40,000 dogs on American racing tracks, drew millions of fans, and had hundreds of proud "dog men" who bred and trained the sighthounds for competition. Animal Wellness Action and GREY2K USA Worldwide are leading the charge for the legislation, with more than 100 other endorsing organizations.
The bipartisan legislation comes after a startling investigation by GREY2K USA last year that exposed live-lure training in Oklahoma, Kansas, and Texas, with "farms" training dogs by allowing them to tear apart rabbits to accustom them to chasing the mechanical lure used for racing. Industry leaders had long denied that anyone trains greyhounds by setting them on live animals for years, and the investigation shattered that false claim.
During its year-long investigation, GREY2K USA documented illegal greyhound training at breeding farms in Kansas, Oklahoma, and Texas (the latter two states treat "coursing," as it's known, as a crime).  According to an undercover investigator, trainers bred or trained more than 100 dogs at these live-lure facilities for transport back to states with commercial racetracks, mainly Arkansas, Florida, Iowa, Texas, and West Virginia.
A surge in track closures
The bill also comes after brisk state-based campaigns by GREY2K USA, AWA, and other groups that have produced a series of track closure announcements and political prohibitions on the activity in the United States.
At the end of 2020, Florida's remaining facilities featuring live dog races ceased those operations. Those closures were mandated by Amendment 13, a constitutional amendment approved by Florida voters in November 2018 to end the dog racing industry within two years. Floridians approved the measure by more than a two-to-one margin, even though the state had been the heart, lungs, and legs of the industry. On the day of the vote in November 2018, Florida had been home to two-thirds of the nation's dog-racing venues — with 12 of the 18 operating tracks.
After the landslide vote in Florida, Arkansas's Southland track in West Memphis — owned by the Buffalo-based gambling and food service company Delaware North — announced it will phase out operations by the end of 2022. Alabama's lone track in Birmingham announced an end to live racing effective in April 2020, and Texas followed suit and immediately terminated live racing. Iowa's track in Dubuque announced it would also cease live-racing sometime in 2022.
It is exceedingly difficult and rare to close out categories of animal exploitation, even practices such as canned hunts and contest kills. There has been great progress in criminalizing horse soring and the use of wild animals in traveling circuses, but these practices persist. Dogfighting and cockfighting are now illegal everywhere in the United States, but there is still a massive network of these criminal enterprises, as a series of Animal Wellness Action investigations have recently exposed.
A ban on greyhound racing would be far easier to enforce than animal fighting prohibitions. Racing requires a big stage, and it is unlikely that it can exist as an underground industry without that infrastructure and the massing of fans and wagers. Once the last tracks cease operations, that would likely mark the end of the sport in the U.S.
In terms of closing out a national industry, the United States ended, more than a century ago, the plume trade, which involved hunters killing birds for their feathers for hat-making. More recently, in the 1970s, the United States stopped commercial whaling after more than 300 years of it. In 2015, we put an end to invasive experiments on chimps, but other primates are still subjected to painful experiments and ethologically miserable environments.
If Congress passes the Greyhound Protection Act, our country will see an end to an industry that harmed  dogs for 100 years, and we'll actually be able to stop it because the law will be enforceable.
Delaware North and foreign tracks in the spotlight
The Greyhound Protection Act will continue to cast a spotlight on Delaware North. While Delaware North was the key force behind the agreement to phase out racing in Arkansas, that positive action still leaves the company with greyhound racing operations. It owns the last two tracks, where local communities in Wheeling and Charleston in West Virginia fight to keep state subsidies for greyhound racing alive and to keep the dogs in the starting gates.
Delaware North did, however, write to AWA and GREY2K USA and told us that it does not oppose H.R. 3335.  That's telling, given that the company manages the only two tracks in the U.S. without a definite timeline to shut down.  The company appears to want out of the business entirely but is navigating the interest of locals who want to continue what they know.
But even more important perhaps is H.R. 3335's ban on simulcasting – the broadcasting of live races where American gamblers can bet on races in other venues, including foreign nations. We are already seeing efforts to allow foreign greyhound tracks to broadcast their signal in the U.S.  If we cannot stop this electronic form of racing from getting established, we'd see U.S. gamblers propping up tracks from Mexico to Ireland to Vietnam.  That would be a terrible animal welfare outcome, given that some of these venues have no animal welfare standards at all.
If the U.S. bans live dog racing, it should not provide financial support to foreign operations for putting their dogs on display. It was just in 2019 that the United States banned cockfighting everywhere in the U.S. Once that happened, we would not tolerate the idea of American gambling venues broadcasting images of cockfights from Mexico to the Philippines.  We should not allow that with dog racing either.
While the industry in the U.S. is in a death spiral, the global racing industry still has some footing. And that makes our fight for the Greyhound Protection Act urgent and timely in our worldwide campaign to close the book on this animal-use industry. The biggest economy in the world should not breathe life to a global industry that has endemic animal welfare problems wherever it does its business.
We have a chance to end greyhound racing permanently in America. Take a moment to contact your federal lawmakers and urge them co-sponsor the Greyhound Protection Act.