We are working to end mink farming for fur — an industry that causes immense suffering to mink and poses major animal and human health threats because of the unique susceptibility of factory-farmed mink to SARS-CoV-2.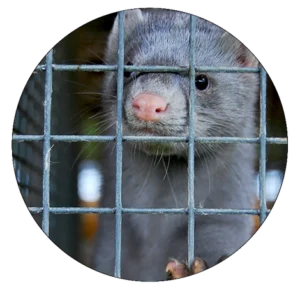 Mink are highly susceptible to SARS-CoV-2 and other zoonotic diseases such as influenza and antibiotic-resistant bacteria such as MRSA. COVID-19 outbreaks on more than 450 mink farms in 2020-21 across Europe and North America infected 7 million mink and killed 700,000 animals. Mink farm workers have repeatedly infected captive mink, and then infected mink then spilling the viral infection back to people, sometimes as dangerous mutant strains that resist human vaccines or treatment. Three dangerous mink-origin mutant COVID-19 strains emerged in Denmark, France and Michigan that infected thousands of people. Eighteen mink farms in Utah, Wisconsin, Oregon, and Michigan had SARS-CoV-2 outbreaks. At least one mink farmer died from COVID-19 acquired from working with farmed mink.
Mink are wild, undomesticated, solitary, unsocial, wide–ranging, and semi-aquatic carnivores. Perhaps even more than poultry, ruminants, or swine, they are totally maladapted to intensive industrial confinement. Housed in tiny wire cages in barn warehouses by the thousands, many injure, kill and even cannibalize weaker cage-mates until they are killed at just 8 months of age for their velvety pelts. Severe distress from unnatural living conditions and inbreeding for coat density and color multiplies zoonotic disease risk via immune suppression. Mink welfare and zoonotic risk cannot be disentangled.
Captive mink are athletic, clever escape artists that escape captivity by the thousands worldwide. Feral escaped mink are twice the size and more fecund than wild mink, so they can act like an invasive species to displace wild mink. They can also introduce new diseases to wild mink and other mustelids. Escaped, feral and wild mink infected with COVID-19 were trapped in Oregon and Utah which could lead to an ineradicable wildlife virus reservoir just as rabies, plague and brucellosis are entrenched in our wildlife populations. The highly endangered black-footed ferret, a mink first cousin, is at high risk from contact with diseased escaped or feral mink. 
Do not wear or purchase garments that contain real animal fur, even as trim.
Rethink buying veterinary products made by Zoetis and Ceva and express your displeasure.
Tell your lawmakers
it's time to ban mink farming in America*
Tell your Representative
to support the MINKS Are Superspreaders Act to ban mink farming in the U.S.*
Sign our petition
to demand that USDA stop the least-known and most appalling form of factory farming
* The provision to ban mink farming in the America COMPETES Act passed in the US House in February 2022. Americans should urge their lawmakers to accept this provision in the final COMPETES Act. They can also urge lawmakers to support H.R. 4310, the MINKS Act (Minks In Narrowly Kept Spaces are Superspreaders Act).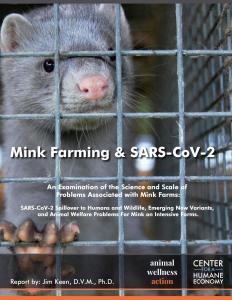 Read our letter to Congressional Leaders on bipartisan amendment to the House's COMPETES Act that prohibits U.S. mink farming due to the substantial public health risk from zoonotic mink-origin COVID-19 variants.