We are working toward a national policy to ban gestation crates on pig farms and small cages at laying hen facilities.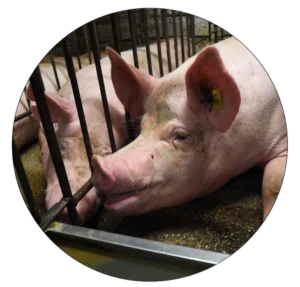 Many breeding pigs and laying hens are confined in cages that barely allow the animals to move more than a few inches. Animals built to move should be allowed to move, and this kind of extreme confinement is inhumane, producing adverse psychological and physical effects for the animals conscripted into food production for humanity.
Almost every major food retailer in the United States — from McDonald's to Costco to Walmart — has agreed to phase out all purchasing of pork from farms that confine sows in gestation crates. Smithfield Foods, the nation's largest pig producer, has phased out gestation crate confinement in its company-owned operations, and Hormel, Cargill, and other big producers have made similar commitments.
Alternatives such as electronic sow feeding systems and pasture-based operations for laying hens provide better living environments than cages or crates. Food retailers that do not meet high standards for living environments risk compromising their reputation and the public's trust. Plant-based foods offer additional options for consumers and to reduce stocking densities.
The Pigs Inside Gestation Stalls (PIGS) Act would ban the sale of gestation crates for use in pig farming if they do not allow a pregnant sow to stand up, lie down, turn around, and freely extend her limbs. This bill will level the playing field nationwide for producers, food retailers, and consumers — an especially relevant role for the federal government to play after the U.S. Supreme Court upheld Prop 12 and Question 3 that restrict commerce in pork from animals kept in extreme confinement.
Read our new report on the EATS Act:
Pork Industry Exaggerations and False Framing About the Effects of Prop 12 and Question 3 Undercut Case for EATS Act
Read More About Our Campaign
Tell your legislators
to ban the cruel use of extreme confinement crates for breeding pigs
Your Organization's Endorsement
can help pass the PIGS Act
Circular photo credit: Jo-Anne McArthur / Animal Equality / We Animals Media