Morocco Moves to Address Canine Rabies Through Humane Street Dog Management
Veterinarians Pledge to Participate
In an important national announcement for a major African nation, the Kingdom of Morocco will move to eradicate rabies with an initiative to Trap, Neuter, Vaccinate, Return (TNVR) its street dog population.  The move was initiated in 2019 with a proclamation by the Minister of the Interior but until now, did not have the support of the National Veterinarians Association.  Animal Wellness Action, which has been working with the government in Morocco, applauded the pledge.
"In light of the escalation of the phenomenon of stray dogs in the various regions of the Kingdom and the accompanying negative consequences," read a statement from the association. "[We] declare readiness to work with all actors in civil society interested in addressing this phenomenon within the framework of implementing the concept of 'One Health.'"
On August 25th the association signed an agreement with the Ministry of the Interior, Ministry of Health, and National Office of the Health Safety of Food Products stating it will work to "contain the phenomenon of stray dogs by collecting, sterilizing and treating them against parasites, especially those responsible for hydatid disease and vaccinating them against rabies."  In the agreement, dogs will be tagged and collared before being returned to their place of origin.
"The Kingdom has long wanted to create a solution to eradicate the canine rabies variant, humanely," said Jennifer Skiff, director of international programs for Animal Wellness Action. Skiff, also a consultant to the prime minister of the Kingdom of Morocco on animal welfare initiatives, said,  "The country will now proceed in implementing changes under the One Health concept – recognizing the interconnectedness of people, animals, and the environment while strategically working for the optimum health of all."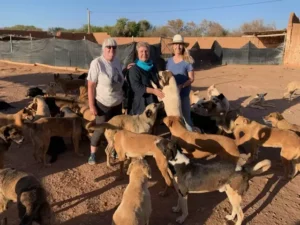 Hazel Skeet and Michele Augsburger of SARA and Jennifer Skiff.
Until now, TNVR in Morocco has been done by charities at their own expense.  Michele Augsburger, founder of Sunshine Animal Refuge Agadir (SARA), has been rescuing stray dogs, cats, and donkeys since 2008 and has 1,100 animals in her care.  She inspired the TNVR movement in the country.  "I am very relieved and happy with this decision, as long as the TNVR is really applied.  After years of poisoning and shooting dogs, this means that Morocco will finally switch to the only effective method of controlling the population."
In Marrakech, Louise Jackson, president of animal charity Nos Amis Pour La Vie, has been implementing TNVR on dogs for over a year.  "This news can't come soon enough.  The city has been engaged in meetings with us but has continued to poison dogs," she said.  "We have been advocating for this intervention and know it's the only solution for stray dogs and the community."   
In cities where TNVR is working, street dogs wear dog tags to alert people they've been vaccinated against rabies.  The tag also symbolizes they have been sterilized, preventing litters.  Most dogs are fed by people commonly known as "guardians," members of the community who care about their welfare.
"When TNVR is applied strategically and methodically, animal populations decline," Skiff said. "The ultimate goal is to stop a deadly disease being transmitted by homeless animals.  Because fear of contracting rabies often causes people to lash out against animals, this initiative's success will have far reaching, positive outcomes for all.".
The Center for a Humane Economy ("the Center") is a non-profit organization that focuses on influencing the conduct of corporations to forge a humane economic order. The first organization of its kind in the animal protection movement, the Center encourages businesses to honor their social responsibilities in a culture where consumers, investors, and other key stakeholders abhor cruelty and the degradation of the environment and embrace innovation as a means of eliminating both.
Animal Wellness Action (Action) is a Washington, D.C.-based 501(c)(4) organization with a mission of helping animals by promoting legal standards forbidding cruelty. We champion causes that alleviate the suffering of companion animals, farm animals, and wildlife. We advocate for policies to stop dogfighting and cockfighting and other forms of malicious cruelty and to confront factory farming and other systemic forms of animal exploitation. To prevent cruelty, we promote enacting good public policies and we work to enforce those policies. To enact good laws, we must elect good lawmakers, and that's why we remind voters which candidates care about our issues and which ones don't. We believe helping animals helps us all.