D.A. Investigation Continues as Center's Work for Carriage Horses Enters Next Phase
New York City — The Center for a Humane Economy reacted today to news that the former owner of Ryder the carriage horse has paid his $1,000 fine for providing an "unlawfully reproduced or altered" record of the horse's age to New York City authorities.
Ryder captured the attention of people across the globe when he collapsed on a New York City street in August heat. Videos of his driver flogging the horse and first responders spraying the animal down with water to revive him went viral, and intense scrutiny was once again focused on arcane attractions that endanger horses and subject them to abuse and neglect for the amusement of tourists.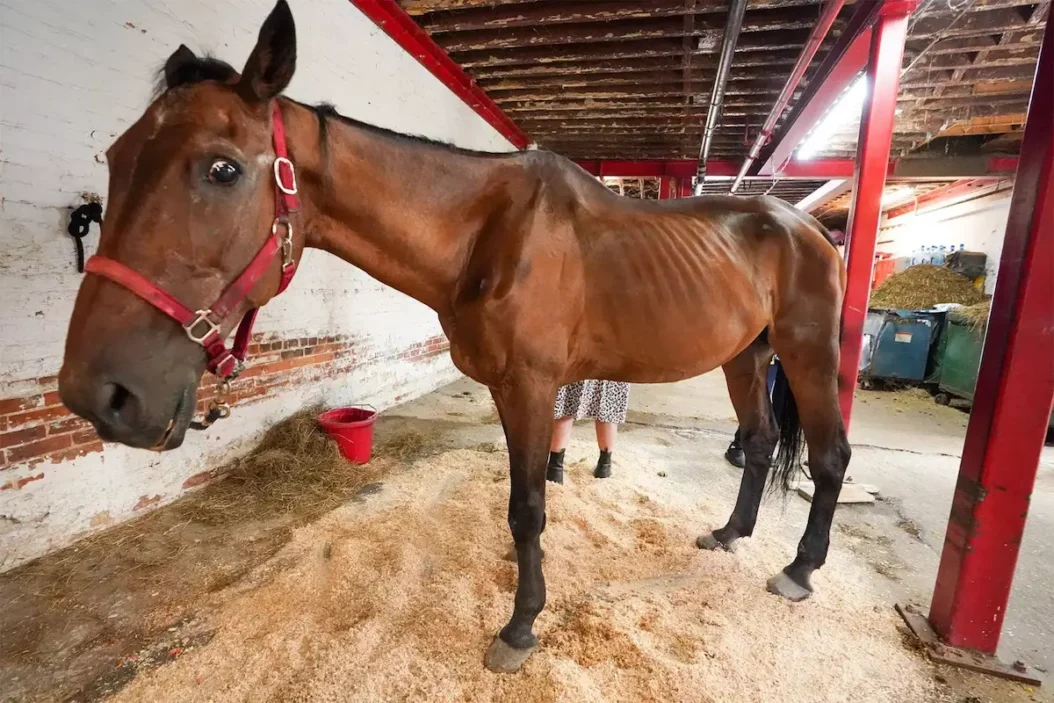 "The penalty affords one small measure of justice for Ryder, but the noncriminal penalty doesn't begin to go far enough," said Julie Marshall, a former journalist who covers animal welfare issues for the Center. "It's a pittance, and it further illustrates there remains a major breakdown in oversight of this cruel, for-profit industry."
Records from the City of New York's administrative law court have been updated to show Colm McKeever, Ryder's previous co-owner, has paid a $1,000 fine as his penalty for providing the false record of Ryder's age, alleging the working horse was only 13 years old when the equine was at least a decade older and possibly more. A licensed carriage horse in New York City must be retired by the time he or she reaches 27 for the animal's health and wellbeing.
The paid fine confirms his guilty verdict and a second violation hearing for a similar charge is scheduled for Jan. 30, 2023.
It's particularly ironic and egregious that McKeever, who was charged with falsifying records, lists his best personal attributes as "honesty, integrity and discretion" on his real estate business website," Marshall noted.
In addition to his advanced age, Ryder was also visibly malnourished with protruding ribs and overheated the day he collapsed. Not long after his retirement, Ryder's new owner had him euthanized owing to his extensive illnesses. His full health records have not yet been released pending ongoing abuse investigations by the District Attorney's Office.
The Center also believes New York City's Department of Health, the agency with oversight of the carriage horse industry there, should be held accountable and face consequences.
"The medical information submitted to New York City's Department of Health from McKeever was facially defective and highly questionable, yet it was rubber stamped on Ryder's carriage horse license. The agency is every bit as guilty and we intend for them to be held accountable," said Scott Edwards, general counsel for the Center. Edwards had obtained Ryder's health records with an open-records request.
"We do not trust the carriage horse industry, nor should anyone, as it falsely clings to its promise of reform in order to keep turning a profit," Marshall said, promising that the Center will continue to work for justice for Ryder through ongoing pressure on District Attorney Alvin Bragg and others.
A Fading Enterprise
Ryder's story is not unlike the other 160 working carriage horses today, whose health and wellbeing remain at high risk.
"I walk around all of the working horse carriages on the streets and in Central Park daily and on the evening of Dec. 22, I saw several horse carriages being driven along Fifth Avenue near Rockefeller Center. Not only is this route against regulations, the street was full of cars, buses and pedestrians!" said Jennifer McCausland, senior vice president for corporate policy at the Center.
Marshall said she sees a national trend toward retirement of carriage horses. A majority of people polled in San Antonio support a ban currently under consideration by city leaders.
Chicago made headlines across the nation with the passage of a ban on horse-drawn carriages. A several other cities also have banned the use of horse-drawn carriages across the country, including Las Vegas, Asheville, N.C., Salt Lake City, Camden, N.J., Biloxi, Miss., and the Florida cities of Key West, Palm Beach, Pompano Beach and Treasure Island. Internationally, Montreal, Toronto, Mumbai, Barcelona, Shanghai, London, and Paris have all banned horse-drawn carriages.
Local restaurants, bars, theaters, and other businesses have been among those who demanded that the horse-drawn carriages be withdrawn from their commercial center in cities like Cincinnati, where the smell of manure from the horses and flies is detracting from the business-friendly environment.
The most prominent argument against the elimination of horse-drawn carriages in major cities has been eliminating jobs. Electric carriages are already in place and working well in other major cities like Charleston, S.C. and Santa Clarita, Calif. Marshall and other opponents of horsedrawn carriages discussed those issues and other related to the industry in recent episode of the Animal Wellness Podcast, which can be listened to here or viewed here.
---