Washington, D.C. — Today, Animal Wellness Action reacted with distress and anguish after learning that thousands of cattle trapped inside a Texas factory farm perished in a massive fire triggered by an explosion at the industrial milk production facility in the panhandle.
On April 13, at about 7 p.m., first responders arrived to see plumes of smoke rising over the South Fork Dairy Farm in Dimmitt, where an estimated 18,000 cattle were held inside for producing milk, according to news reports.
One worker was rushed to a nearby hospital with injuries, but all the animals died in one of the worst calamities in the history of the dairy industry.
Wayne Pacelle, president of Animal Wellness Action, issued the following statement:
"The deaths of thousands of dairy cows intensively confined on an overcrowded factory farm is a tragedy that should stir deep concern. This was not Old MacDonald's Farm with cows in fields and farmers tenderly caring for cows. This was an industrialized farm that treated cows like milking machines, with each animal bred for excessive yields and delivering as much as 22,500 pounds of milk a year.

These cows have a wide range of health problems because of the re-engineering of the cows for overproduction, to say nothing of the threat posed when a fire or other disaster threatens the animals at a jam-packed facility.

Our federal government is subsidizing this industry at an unacceptable level, including by imposing a "milk mandate" for 30 million kids participating in our National School Lunch Program even though perhaps half of them are lactose intolerant and cannot safely digest the cow's milk. The government is overreaching by subsidizing and promoting milk beyond its natural appeal to consumers and, in this case, denying kids any choice at all in the lunchroom."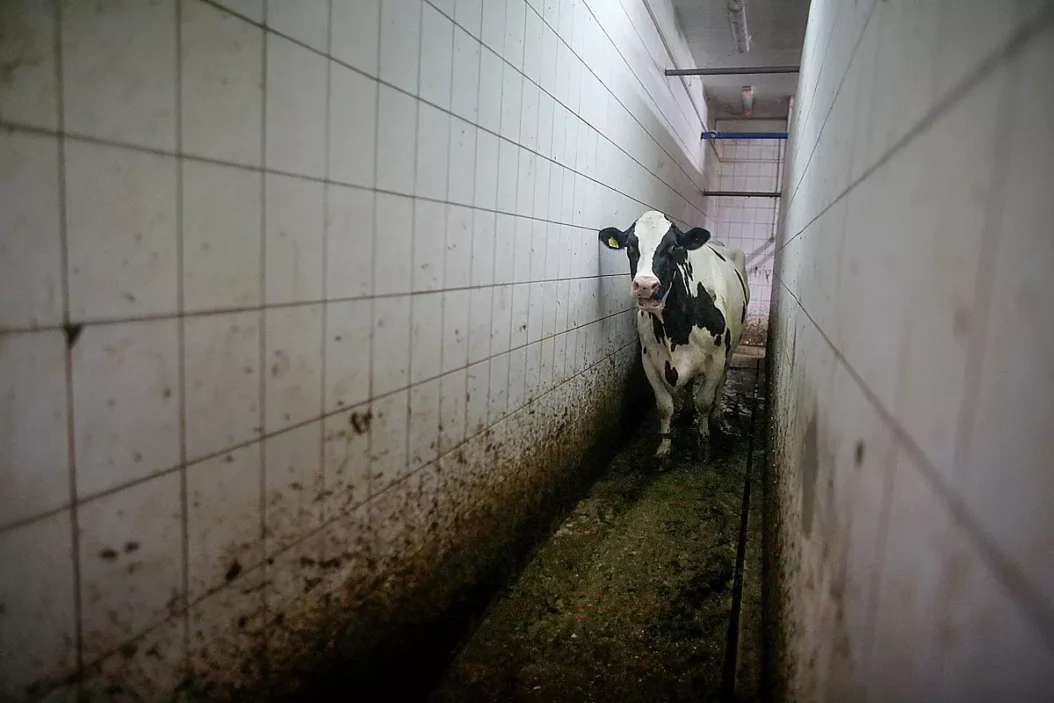 The ADD SOY Act: Proposed Remedy
The H.R. 1619, known as the Addressing Digestive Distress in Stomachs of Our Youth, or ADD SOY Act, would require public schools to offer soy milk to children participating in the National School Lunch Program and direct the USDA to fully reimburse schools for the cost of that plant-based alternative. U.S. Representatives Troy Carter, D-La., and Nancy Mace, R-S.C., introduced the ADD SOY Act to address this long-standing problem in a key national nutrition-assistance program and promise to deliver school choice to kids.
"It is abundantly clear that the current milk substitute system that USDA employs is delivering detrimental impacts on BIPOC school children," said Rep. Carter. "Too many children who cannot safely or comfortably consume dairy are being forced to accept containers of cow's milk on their lunch trays. My ADD SOY Act ensures the health and nutritional needs of all our nation's students are met. America needs to embrace its diversity at the lunch counter."
"The federal government is wasting $300 million of our tax dollars a year by mandating that every school kid getting nutrition assistance has a carton of cow's milk on the tray even though millions of them don't want it and get sick from it," said Rep. Mace. "Thirty percent of kids throw the milk away, and hundreds of millions of tax dollars wasted is not simply spilled milk. Kids should have a healthy choice in lunchrooms."
Animal Wellness Action Hosting Webinar
Animal Wellness Action is hosting a webinar on Thursday, April 27, 8 p.m. ET/5 p.m. PT. Entitled"Ending the USDA's 'Milk Mandate' in Schools and Providing a Plant-Based Option for Kids." Participants can learn more and register free at here.