State Attorney General's Office wrongly delays Question 3, again
Washington, D.C. — Animal Wellness Action and the Center for a Humane Economy called on the Massachusetts Attorney General Andrea Joy Campbell to stop subverting implementation of a 2016 voter-approved ballot measure, Question 3, and to end the long series of delays in applying and enforcing it. Question 3 includes a provision to halt the sale of pork in the state if factory farms where pigs come from confined the sows in small 2-by-7 crates.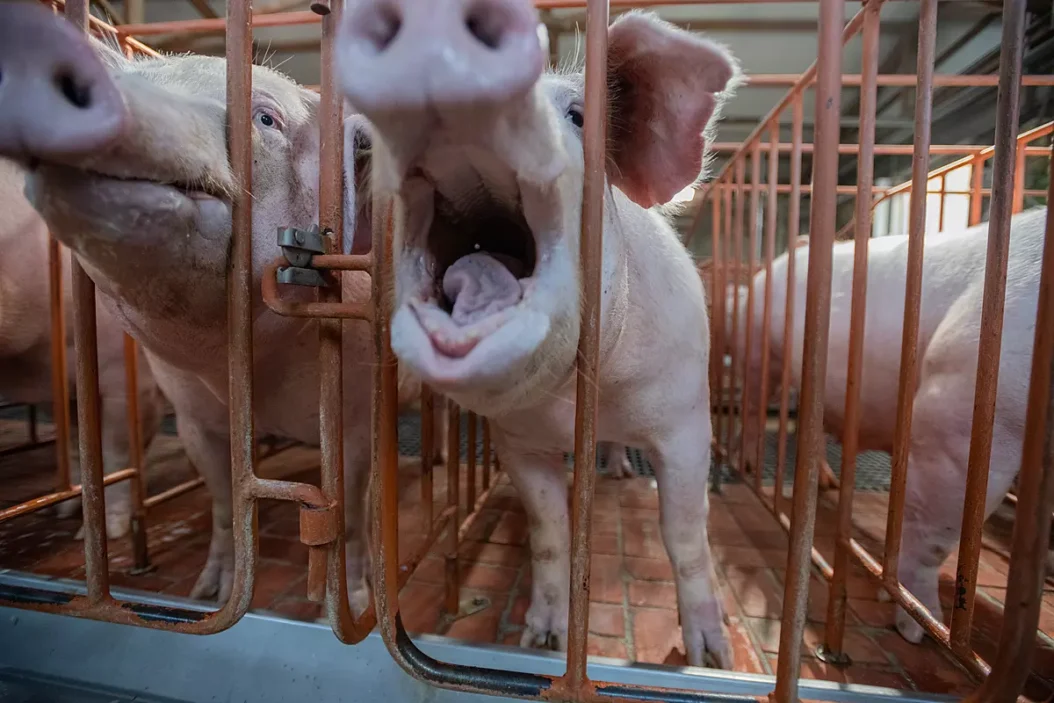 "Voters approved Question 3 in a landslide more than six years ago, and they deserve to see the law implemented in a rigorous and timely manner," said Wayne Pacelle, president of Animal Wellness Action and the key architect of the ballot measure. "This measure had a six-year phase-in period and it's been delayed 17 additional months without good reason. How many ballot measures pass with 78% of voters favoring it, including 348 of 351 towns in the state, but are not being enforced by state authorities?"
In May, the U.S. Supreme Court upheld a similar state law — California's Proposition 12 — as constitutional, clearing away the last delaying tactics executed by U.S.-based and China-based pork conglomerates. Justices Elena Kagan and Sonia Sotomayor were joined by Clarence Thomas, Amy Coney Barrett, and Neil Gorsuch, who wrote the opinion for the Court holding the state laws constitutional.
The state restaurant association, which had sued the Attorney General in 2022 to stop enforcement of the Question 3 provisions pending the outcome of the Prop 12 Supreme Court case, entered into a stipulated agreement with the Attorney General that stayed any state action against retailers until 30 days after the Prop 12 case was decided; that 30-day period ended on June 12, 2023, opening the way for full Q3 implementation and compliance.
Despite the definitive settling of the constitutionality of Question 3 by the Supreme Court, the Attorney General's office filed another joint stipulation in the state case on July 3, 2023 in the federal District Court for the District of Massachusetts agreeing to further stay its enforcement of Question 3 until Aug. 23, 2023 "to determine what, if any, issues remain unresolved by that [Prop 12] decision and whether the Parties can reach a negotiated resolution of those issues." Even then, the stay will not automatically be lifted as the parties are scheduled to file a new proposal to the court laying out future steps in the matter.
"The restaurant association's entire legal theory was premised on the exact same issues decided by the Supreme Court in Prop 12," said Scott Edwards, general counsel for Animal Wellness Action and the Center for a Humane Economy. "The fact is, that there are no unresolved issues in the federal court case in Massachusetts and the Attorney General's office needs to stop trying to placate an industry determined to continue, at any costs and in the face of overwhelming consumer sentiment, with its cruel confinement practices for breeding pigs."
That determination was further reflected in recent partisan legislation introduced in Congress — the EATS Act, S. 2019 and H.R. 4417. This legislation would not only gut Question 3 but also many other state agricultural laws and regulations. The bill would "nullify any state or local law that places any kind of standard, regardless of its impact, on agricultural exchange, whether grounded on concerns about animal welfare, food safety, chemicals, agricultural pests, or worker safety," said Edwards.
Smithfield Foods, the largest pig producer in the United States, has been working with the National Pork Producers to undercut the voter-approved ballot measures in Massachusetts and California. Smithfield Foods was purchased by the WH Group in 2013 and is fully controlled by the Chinese Communist Party.
"There can be no question that a Chinese-controlled U.S. pork giant is working with its U.S.-based pork trade association to undermine duly enacted laws in the United States, including Amendment 3," said Mr. Pacelle, Animal Wellness Action noted that Smithfield produces one in six pigs in the U.S. and its control by the CCP is the most glaring example of China's infiltration of American agriculture.
More on Question 3
In 2016, 78% of Massachusetts voters passed Question 3, establishing minimal-care requirements for housing mother pigs, veal calves, and egg-laying hens raised in Massachusetts. The measure also restricts the sale of whole pork meat, whole veal cuts, eggs, and egg products sold in Massachusetts, barring sale of those products if they come from farms relying on extreme confinement. While the requirements for veal, eggs, and egg products are already in effect, legislative amendments in late 2021 extended the effective date for whole pork meat requirements to Aug. 15, 2022.
Many U.S. companies and restaurants, including McDonald's, Costo, and Kroger, have already promised their consumers that they will forbid sourcing pork or eggs from operations that confine the sows or hens in extreme ways.