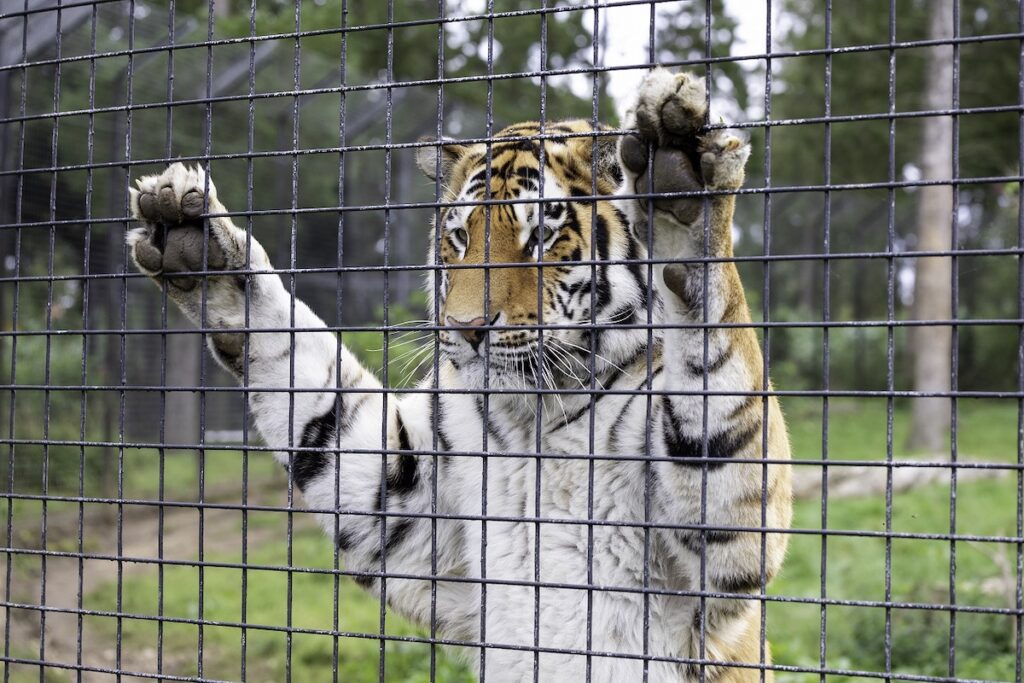 With Joe Exotic and Other Menagerie Owners Out of Business or in Legal Trouble, It's Time to Enact Safeguards for Captive Big Cats
It's been well more than two years since the release of the salacious Netflix series "Tiger King," the documentary that hyped a conflict between Big Cat Rescue founder Carole Baskin and Joe "Exotic" Maldonado-Passage. The self-proclaimed Tiger King is now serving a 21-year sentence for taking out a contract to assassinate Baskin and for killing some tigers at his now defunct, slapdash, overcrowded menagerie in Garvin County, Oklahoma. With Maldonado in prison, and nearly all other commercial tiger menageries out of business or in legal jeopardy, there's no longer much of a debate. It's now time for Congress to slam the gate shut on the era of commercial exploitation of big cats as pets and roadside petting attractions.
The U.S. House has that chance this week, with House Majority Leader Steny Hoyer, D-Md., announcing on Friday that the Big Cat Public Safety Act, H.R. 263, will come to the floor this week. Led by Reps. Mike Quigley, D-Ill., and Brian Fitzpatrick, R-Pa., it has as much momentum as a tiger taking after a water buffalo in the forests of India or Indonesia. The bill has 259 cosponsors and a swollen coalition of animal welfare, conservation, and law enforcement public safety groups, from the National Sheriffs' Association to the Association of Zoos and Aquariums to Animal Wellness Action and Big Cat Rescue. The opponents of the bill seem to have scattered into the brush and are very few in number.
Commercial Cub Petters Run Out of Business by State, Federal Authorities
The hucksters in the cub-petting sector — caterwauling the loudest against the bill through the years — are vanishing before our eyes due to public pressure and legal jeopardy that have swamped them. Down from nearly 60 cub-petting operations just 10-to-15 years ago, there are now maybe two or three operational cub-petting commercial outfits in the United States. Nearly all cub petters featured in "Tiger King" are incarcerated, have had their animals seized, or are facing prosecution:
Joe Exotic, of Oklahoma, is serving 21 years in federal prison for 17 wildlife-related charges as well as murder-for-hire charges.
Jeff Lowe, who took charge of Joe Exotic's GW Zoo and intended to open a cub-petting operation in far eastern Oklahoma, had his operation raided by federal authorities, who brought civil charges against him.
Tim Stark, another prominent Tiger King "star," had his animals confiscated by the State of Indiana for multiple animal-related and nonprofit operation violations. He fled the state after a criminal charge was filed and was arrested in New York.
Bhagavan "Doc" Antle, of South Carolina, was arrested recently by federal authorities on charges of money laundering. He's also facing charges by the State of Virginia with 15 counts of wildlife trafficking and animal cruelty.
But there's no reason to relax and allow new operators to get into this tawdry business. The arguments in favor of H.R. 263 have never been more compelling. 
The Costs of Big Cat Trade Are Painful for Animals and People
The tigers and lions bred for the pet trade or as roadside attractions never lead good lives. They typically live in substandard conditions and in almost every case, their lives end tragically.  We reduce these remarkable beasts to shadows of themselves in dilapidated roadside menageries or in backyards or basements. The people who acquire the animals on impulse or for profit almost always give them up because they cannot be safely managed by individuals without sufficient resources or professional staff.
So many law enforcement agencies back the legislation because their sworn officers are not trained to handle big cats on the loose or in a state of fear or fury in a cage or crammed in a small room. Why put our first responders at risk when they have so many other problems in our communities to handle?
You may recall the 2011 incident in which an emotionally troubled individual in Zanesville, Ohio, released more than 50 animals at his exotic zoo — including grizzly bears, wolves, and big cats — just before dusk. It was so unfair to put the sheriff and his deputies in this terrible position of having to shoot dozens of frightened, confused animals to prevent a deadly encounter between previously caged large predators and residents of the eastern Ohio community.
Pick your cause for the next dangerous animals-at-large scenario: Tornado, derecho, troubled owner, vandal, disgruntled employee cutting a hole in a fence. Any one of them might trigger a Zanesville-like incident to recur at any one of the facilities with a surplus of powerful and captive wild animals amid a deficit of proper protocols, stable or suitable housing.
When big cats are confiscated or abandoned by owners who finally realize they are too much to handle, these animals become an unfunded liability for the already struggling animal welfare community. Sanctuaries, reputable zoos, and animal welfare groups step up to take in these big cats to help them, but it comes at an enormous and unanticipated expense — as much as $1 million dollars to house, feed, and care for a single tiger for 20 years.
It seems hardly worth the trauma to the animals and the costs to the rest of society for a handful of people to pet a tiger cub for 10 minutes and the roadside zoo owner to claim $25 for each cub petting session.
Let's remember that the abuse begins in the first few months of life. Cubs are taken from their mothers at birth, deprived of the proper nutrition found only in mothers' milk, denied sleep while being handled for hours on end, and physically punished for exhibiting their natural behaviors.
Why not solve the problem on the front end and stop people from putting juvenile tigers and lions into the funnel for abuse and death in the first place? 
These menagerie operators are charlatans, their conservation arguments hocus pocus, their carnival barking just a distraction. Their legacy is one of cruelty, chaos, and cost-transference to the rest of society. It's no accident that they all face serious legal jeopardy because of their quackery.
Thank you, Mr. Hoyer, for calling the vote.  Now it's time for lawmakers to act. To help clinch the case, it's important that they hear from you today.
Please take action by asking your legislators to help the big cats.