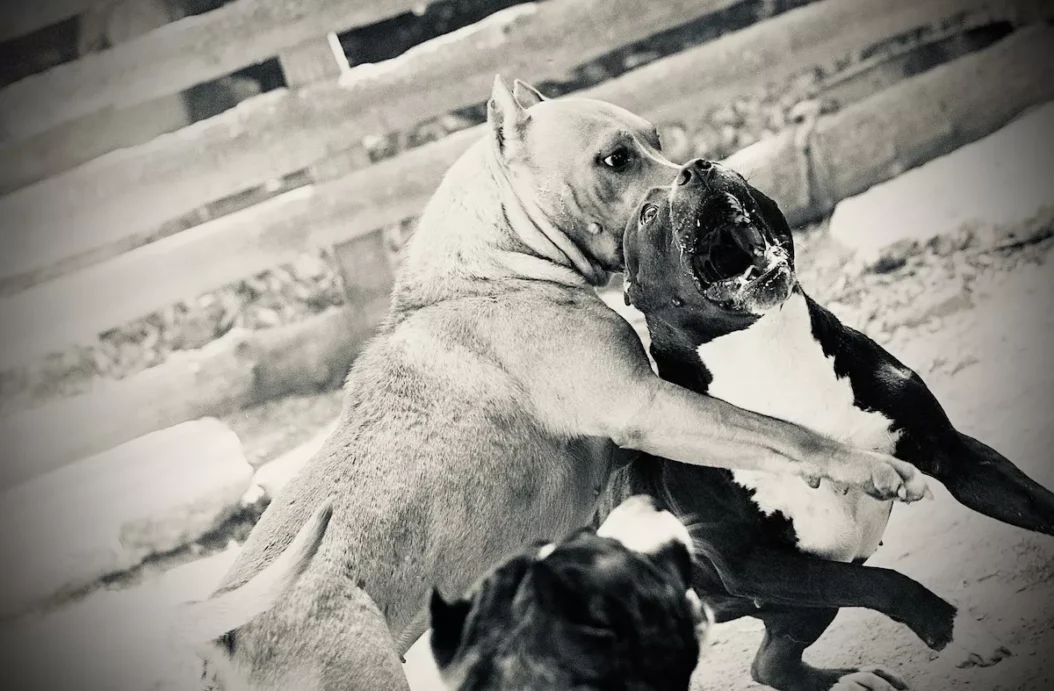 National Legislation Introduced to Allow Citizen Suits to Crack Down on Staged Animal Fights
Lawmakers also seek to choke off transport of adult roosters through U.S. mail
When Tom Pool, D.V.M., retired earlier this year as Territorial Veterinarian for Guam, he was finally free to speak the truth.
The government's top veterinarian announced, in an opinion piece in the U.S. territory's largest paper, that the transport of more than 11,000 adult fighting birds to the island from several states has been illegal all along. The commerce was conducted for cockfighting, he said, with birds hacked up in illegal fighting pits across the island. Other officials signed the permits and blessed the illegal trade because Dr. Pool refused to do so.
Data obtained by Animal Wellness Action from the Guam Department of Agriculture (GDA) revealed a total of 2,138 fighting animals transported to Guam in 2021, despite the imposition of a federal ban on cockfighting imposed in December 2019. Over the last five years, Animal Wellness Action has documented 11,516 fighting birds admitted entry to Guam through permits granted by the GDA.
There "is simply no other rationale for the shipment of very expensive adult roosters to our island but for cockfighting," wrote Dr. Pool, who was a Colonel in the U.S. Army and ran its U.S. Veterinary Command. "We know that the people on both ends of these transactions have been involved in the criminal practice of cockfighting."
Guam's political leaders — the director of the Department of Agriculture and the governor — have repeatedly given the nod for this live-animal contraband to persist. 
But what about the federal government acting as bulwark against this felonious conduct? Indeed, it's been a federal crime to transport fighting birds to the island since 2002. We provided evidence to federal law enforcement detailing the identities of the shippers and the receivers, along with the completed import forms. As evidence of additional public corruption, we even managed to obtain, from an informant, videos of a Guam Department of Agriculture employee fighting birds at a pit on the island.
While the federal government deserves plaudits for busts in Alabama, California, Georgia, and Kentucky, it has been passive or indifferent as cockfighters operate with impunity not just on Guam and in Puerto Rico, but also in Hawaii, New Mexico, North Carolina, Oklahoma, Puerto Rico, Tennessee, and other several jurisdictions that we've document as animal fighting hotbeds.
An offensive against rampant cockfighting and dogfighting
As a means of handing the federal government even more potent enforcement tools, we worked with allies in Congress to introduce new anti-animal fighting legislation on November 16th. Reps. Cindy Axne, D-Iowa, and Don Bacon, R-Neb., led the effort to advance the Animal Fighting Amendments Act of 2022.  Reps. Mark Amodei, R-Nev., Troy Carter, D-La., Buddy Carter, R-Ga., Brian Fitzpatrick, R-Pa., Nancy Mace, R-S.C., Jim McGovern, D-Mass., and Mike Quigley, D-Ill., joined them as original cosponsors of the legislation to crack down on staged combat between animals.
Their bill would do the following:
Halt the transport of mature roosters through the U.S. mail
Create a citizen suit provision to allow private right of action against illegal animal fighters and ease the resource burden on federal agencies
Ban simulcasting and gambling on animal fights in the United States, no matter where the fights and the broadcast signals originate, and
Enhance forfeiture provisions to include real property used in the commission of an animal fighting crime.
In a series of state-based and territory-based investigations, our investigators found large-scale fighting operations and trafficking of hundreds of thousands of fighting animals. While there's plenty of domestic animal combat, America is also the cockfighting breeding ground for the world, with trained roosters sent to Mexico, the Philippines, and two dozen other nations to die in fighting pits in these far-off destinations.
We uncovered a Philippines-based television network that released 50 videos in 2020 showing on-farm visits in the United States where the American cockfighters tout the bloodlines and fighting prowess of their roosters. One Alabama-based cockfighting operator told the Filipino television broadcaster that he sells 6,000 birds a year to Mexico alone for as much as $2,000 a bird, generating millions in illegal sales and unreported income.
While federal law enforcement personnel would still drive enforcement actions against cockfighting, this legislation, by authorizing citizen suits, would provide new levers to initiate civil proceedings, bringing a new set of adversaries to the cockfighting operators openly conducting their barbaric and illicit activities. A separate bill, the Animal Cruelty Enforcement Act, would create an Animal Cruelty Crimes section at the Department of Justice and allow for more resources to coordinate and execute strategies against illegal animal fighting.
Dogfighting and cockfighting deliver cruelty, contagion, and illicit gambling
Michael Vick is the highest profile dogfighter in American history, and it was his backyard dogfighting complex in rural Smithfield, Virg., in 2007 that thrust the savage world of staged fights between dogs into the American consciousness.
Regular people learned not just about the scale of the fighting and the selective breeding of the dogs to accentuate fighting skills, but also about the culling of poor-performing dogs and the many accoutrements of the enterprise – from treadmills to break sticks to rape stands. His arrest, along with others from Bad Newz Kennels, in a multi-state fighting ring came just as Congress was making animal fighting a felony, and it triggered Congress to revisit the issue the very next year and to strengthen the law. Congress took a new whack at the problem in 2014, making spectating a crime, and then it hit the problem again in 2018 by passing amendments to extend all prohibitions against animal fighting to the U.S. territories.
Dogfighting is very frequently bound together with other forms of criminal activity, including gambling, drug trafficking, weapons possession, human trafficking, child abuse, homicide, gang activity, and others. Gambling on dogs in fights can yield as much as $100,000 for "winners" of a single fight. According to published reports in underground publications, the average fight lasts about 45 minutes, but there are documented cases of fights lasting more than two hours. Dogs suffer grievous wounds, including severe bruising, deep puncture wounds, and broken bones, and they often perish in the battles.
The Animal Fighting Amendments of 2022 would also address the growing international broadcasting and wagering on animal fights, in an era when sports and other forms of online gambling have emerged as multi-billion-dollar forms of wagering. It's the gambling on cockfighters that is more brazen and out in the open. Pitmasters LIVE sites (pitmasterlive.com and wpcpitmasters.com) are just two growing platforms for people who want to wager on staged fights.
Former President Rodrigo Duterte of the Philippines issued a ban on online betting at cockfights months ago after dozens of people involved in cockfights were kidnapped and never heard from again. One woman, who had unpaid gambling debts, reportedly sold her child to pay off her bets. These sites are available to U.S. gamblers, and while it is impossible to track the scale, it's clear such online gambling on cockfighting is surging in the United States.  The American Gaming Association, which fights illegal gambling, has joined in on our legislative campaign. 
Cockfighting is also distinguished from dogfighting for spreading zoonotic disease such as avian influenza and virulent Newcastle Disease. A 2017 outbreak in California of virulent Newcastle Disease — likely originating in the movement of fighting birds — has cost the federal and state government more than $100 million to contain and resulted in the killing of more than 3 million animals to arrest its further spread. Cockfighting has been linked in local news reports to the death of a number of people in Asia from bird flu, and the World Health Organization has noted that human cases of avian influenza in Thailand and Vietnam may have been contracted through cockfighting activity.
Most people consider animal fighting a morally settled issue. But it's far from settled on the ground, with hundreds of fighting pits, tens of thousands of dogfighters and cockfighters, and millions of animals conscripted into the violent spectacles. We'll stop it only when there are sufficient enforcement assets deployed and there is a strategic effort to nab the kingpins, shut down the pits, seize the live contraband, and penalize the whole cast of characters involved.
The introduction of the Animal Fighting Amendment of 2022 offers the prospect cutting off the pathways for transporting fighting animals, shutting down the gambling that fuels it all, and empowering average citizens to join in on the enforcement efforts and run the bad guys out of town.
Please urge your legislators to cosponsor the Animal Fighting Amendments of 2022.