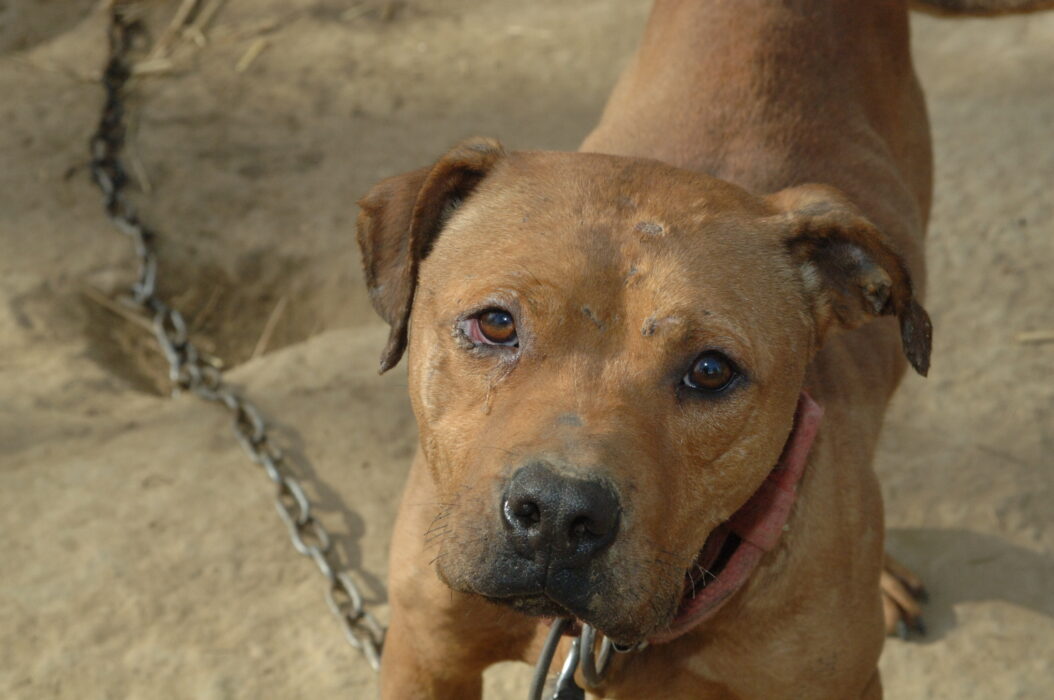 A Pentagon Official, Puerto Rico's Governor, and the Scourge of Animal Fighting
Animal fighting is a premeditated crime, not a cultural prerogative
In recent days, there were two happenings in the Washington, D.C. area that directly touched on the cruel and unacceptable practice of animal fighting. One incident rightly drew headlines, while the other didn't seem to ruffle a feather.
In the matter that became headline news, the U.S. Attorney for the District of Maryland brought charges against a deputy chief of communications within the U.S. Department of Defense (DOD) for participating in a dogfighting operation that spanned two decades. The DOD press leader, Frederick Douglass Moorefield, Jr., 62, allegedly trained dogs for fighting out of "Geehad Kennels," gambled on staged battles between dogs, sold seasoned fighting dogs and their offspring to others in the criminal network, and executed dogs who didn't die during matches with jumper cables , according to court records. Mario Flythe, an accomplice of Moorfield, was also arrested and charged.
Moorfield apparently took an oath to defend the United States of America from "all enemies, foreign and domestic," but nonetheless, in the shadow of the Pentagon, engaged in unimaginable cruelty to animals. Agents from the FBI and USDA's Office of the Inspector General found weighted collars and heavy metal chains often used for strengthening the dogs at his home, along with scarred fighting dogs in cages, battery jumper cables (used to kill poor-performing dogs), carpets colored red with the spilled blood of mangled animals, and "an apparatus that is used for involuntarily inseminating female dogs."
The second development in the capital region didn't warrant any attention in the media, but has its own sinister plot. Right about the same time as Moorfield's arrest, Puerto Rico Gov. Pedro Pierluisi, on a work trip to Washington, stomped the halls of Congress on a mission to try to block the advance of the FIGHT Act, H.R. 2742/S. 1529, according to personal accounts from staff I work with on Capitol Hill. The Fighting Inhumane Gambling and High-Risk Trafficking (FIGHT) Act has bipartisan, bicameral support and seeks to upgrade the capacity of the United States to crack down on dogfighting and cockfighting.
Gov. Pierluisi's lobbying blitz happened not only to be timed with the Moorfield arrest, but also coincided with an announcement from the U.S. Department of Justice DOJ that a man named Antonio Casillas Montero was sentenced to seven years in federal prison for his illegal dogfighting activities, described by federal prosecutor as involving "extraordinary cruelty."
Casillas operated Stone City Kennels in Puerto Rico and, like Moorfield, ran a long-standing dogfighting business. According to federal authorities, Casillas's dogs participated in at least 150 fights throughout the Americas.
Casillas used "veterinarians in Puerto Rico to obtain health certificates to send fighting dogs to the Dominican Republic on a ferry, where the dogs would be trained in the weeks before matches," according to the DOJ. "During the fights, which could last for over 1.5 hours, Casillas would let losing dogs perish from their injuries, rather than removing them from a fight." He sold one "champion" female for $20,000 and sold others for prices ranging from $1,000 to $10,000 to other dogfighters in the United States and in other Latin American nations.
Shameful Disrespect for the Rule of Law in Puerto Rico and Beyond
At the sentencing hearing for Casillas, U.S. prosecutors stated that "the government has not found a comparable case of someone with as many dogfights for as many years as Casillas." Perhaps even more importantly, they noted "dogfighting is an open secret in Puerto Rico that is not targeted by local law enforcement."
Indeed, dogfighting and cockfighting are rampant in Puerto Rico, and the Commonwealth's top political leaders care about animal fighting – but in a way that is morally upside down. They have been campaigning, under the guise of defending "Puerto Rican culture," to gut existing federal laws against animal fighting; they have also been resisting any acts of federal enforcement on the island and abetting the crimes of illegal animal fighters.
Gov. Pierluisi has been active in working to overturn or otherwise repeal the 2018 amendments to the Farm bill that extended the full array of federal prohibitions against animal fighting to the U.S. territories. In January 2021, Gov. Pierluisi publicly announced that he is "committed to supporting an industry that generates jobs and income for our economy, that represents our culture and our history" and that he, along with Delegate Commissioner Jennifer Gonzalez Colon, R-Puerto Rico, "will continue to fight for them [cockfighters]." He then falsely claimed that cockfighting may continue so long as animals are not imported for this purpose, even though that advice is entirely at odds with any plain reading of the National Animal Fighting Law. He outspokenly backed a federal lawsuit from Puerto Rican cockfighting to challenge the national law in the federal courts.
Commissioner Colon had been at the task a while, introducing federal legislation in the House in 2019 to repeal a law Congress had overwhelmingly passed to crack down on animal fighting in the U.S. territories. Fortunately, neither her work, nor the governor's, has proved fruitful for the cockfighters in the federal courts or the Congress to date.
FIGHT Act Builds on Existing Law to Stamp Out Animal Fighting Everywhere in U.S.
When Puerto Rico's leading politicians announce publicly to cockfighters that they can operate there and that they will "fight for them," should it surprise anyone that the dogfighters take away the same message that the federal rules also shouldn't apply to them?
Based on the FBI's work in Puerto Rico, we know that the only way to stop dogfighting there was for federal authorities to target and arrest the island's most notorious dogfighter. Local police authorities, heeding the directives of pro-animal fighting politicians, made it plain that they wouldn't take any action to halt these forms of malicious cruelty to animals.
In Puerto Rico, dogfighting is rampant, but cockfighting is a step beyond that; it is advertised in lights and conducted out in the open, even though the activity is a federal felony with the same penalties as dogfighting. When you land at the airport in Puerto Rico, in fact, you see neon signs advertising "live cockfights" emblazoned across the façade of a venue the size of a major college basketball arena.
We applaud the United States for taking down the island's leading dogfighter. Now it's time for the United States to knock on the door of the cockfighting arenas there and tell them to shut down operations or else. No state or territory can or should be a refuge for this kind of cruelty and lawlessness.
Congress can give further encouragement to federal law enforcement officials by passing the FIGHT Act, led by Reps. Don Bacon, R-Neb., and Andrea Salinas, D-Oregon, in the House, and by Cory Booker, D-N.J., and John Kennedy, R-La. in the Senate. If lawmakers enact the FIGHT Act, as they are expected to do, it will signal for the sixth time in this century, in the form of lawmaking actions, that it wants the practice to end on every inch of U.S. soil, and that includes the territories.
Only a determined, strategic effort to nab the animal-fighting kingpins, shut down their pits, seize the live contraband, and penalize the whole cast of characters involved would put an end to this mayhem. The FIGHT Act offers the prospect of cutting off the pathways for transporting fighting animals, shutting down the gambling and other crimes that fuel it all, and empowering average citizens to join in the enforcement efforts and run the bad guys out of town.
Wayne Pacelle is president of Animal Wellness Action and the Center for a Humane Economy
Dear reader: If you support substantive policy work to protect animals, please consider donating to the Center for a Humane Economy today. You can give any amount one time, or make it a monthly gift, as many of our supporters do. Thank you for helping us fight for all animals. Please go here to make your contribution.